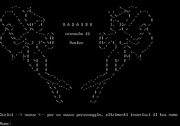 RADAIRK cronache di Avalon is an Italian language MUD hosted in Italy.  The MUD may not currently be active as attempts to contact it at its last known address failed.  Its last known address was 84.72.104.153 9000.  One version of NiMUD called Lyonesse-1.0 was translated into Italian and the MUD may very well be running a modified version of that software.
Community content is available under
CC-BY-SA
unless otherwise noted.