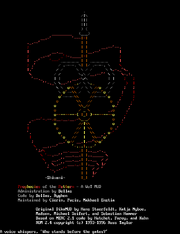 Prophecies of the Pattern is a Wheel of Time themed ROM MUD. It is a roleplay intensive game.
From the website:
"Prophecies of the Pattern is a game like no other! Although there are many other MUDs out there, the PotP community stands out as one of the most welcoming and helpful to both new and experienced Mudders. The game began in the nineties after splitting off from another MUD. Back then, our community had a different name but nonetheless we have grown continuously since then and our commitment to our players has always been of the utmost importance. We have always made the MUD a safe haven from the outside world and provided a place for people of all ages to relax and have fun."
Community content is available under
CC-BY-SA
unless otherwise noted.