Muddy Waters, frequently abbreviated MW, is a long-running MUD, a text-based online role-playing game, founded in 1993. It has received positive critical response.[1]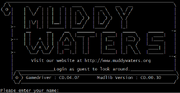 The setting of Muddy Waters is a "historical fantasy environment".[2] Player characters may be of the human, elf, dwarf, orc, or hobbit races.[2]
A distinctive feature of the game is its book of character histories, which contains the name and description of every character generated on the MUD.[1]
Muddy Waters supports a gameinfo command at its initial login screen to help new players orient themselves.[2][1]
The character creation process of Muddy Waters has been called "particularly poetic",[1] and was used as an example "fairly typical for all MUDs" in Internet Agents: Spiders, Wanderers, Brokers, and Bots.[3]
Muddy Waters is an LPMud[3][1] based on the CD gamedriver and mudlib.[4]
Community content is available under
CC-BY-SA
unless otherwise noted.