We're Getting Mutants in the MCU - The Loop
Play Sound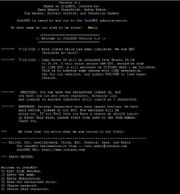 Overview:
[
]
While JediMUD features a Star Wars themed zone, it offers a wide selection of more than 100 unique and stock Circle/CAW zones, a powerful Jedi class as well as ten other character classes including two remort classes: the Bard and Ranger. A fighting monk class, the Sohei, offers an exciting multi-remort strike attack that can dispatch 5000+ hp mobs in a single round.
Zones:
[
]
Here is a listing of the current zones offered by JediMUD 6.0:
AREA NAME


AUTHOR


Abandoned Cathedral
Matrix
Abandoned Ship and Deep Forest
Steppin
Algodon's Pyramid of Doom!
Cognitasne
Valaria
Andrus' Toy Land
Anton
Anthill
Labrat
Arachnos
Mahatma
Aralu
Raid
Arcadia
Ciara
Arctic Empire
Chris Boggs
Arctica
Duke
Triana
Camelot
Loki
Castle Mistamere
SillyMUD
Cedar Estate Mansion
Anton
Cheer's Bar
Naved Surve
Chessboard
Exxon
Darkspine Mountains
Darkspine Mountains
Donner's Den
Cognitasne
Dragon City
Anton
Dragon Sea
Cognitasne
Drake Island
Cognitasne
Drow City
Rorschach
Dwarven Kingdom
Depeche
Emerald Maze
Gonfalon
Enfan City
Rorschach
Floodlands
Steppin
Forest of Amber
Scarabus
Nymphia
Onivel
Forest of Dark Haon-Dor
Quifael
Derkhil
Forest of Haon-Dor
Froboz's Factory
Galaxy
Goblinsville
Golden Pagoda
Fakir
with additions by Guts. Gambler
Great Eastern Desert
Great Pyramid
Shoes
Gyle's Keep
Asdf
Hell
Mahatma
Hellas
Jo
Gorgon
High Tower of Magic
Imperial Ravenna
Steppin
King Welmar's Castle
Limbo
Lost City of Old Thalos
Lost Isle of Shaedar
Myst
Lower Moria
CAW
Mahn-Tor
Chris Boggs
Valaria
Metro Rail Car
Steppin
Miden'nir
CAW
Miden'nir Extension
Gorgon
Midgaard
Midgaard Guild Shops
Ching
Midgaard Sewers
Gonfalon
Midgaard South
Midgaard Temple
Midgaard Zoo
Moria
New Thalos
Nightmire
Gonfalon
Parliament of Owls
Protoclown
Refuge and Asylum
Gonfalon
River Island of Minos
Mahatma
Rome
Sanctuary
Osmium
Scipio Dreaming
Steppin
Sesame Street / Muppet Theater
Kaeli
Kinski
Moonbeam
Shadow Rift
Mandragora
Shire Village
CAW
Sieged Castle
Skara Brae
Gyles
Star Wars
Onivel
The Abyss
The Amusement Park
The Balor
The Bardic Colleges
Infoteq
The Corsair Citadel
Cognitasne
The Crystal Caves
CAW
The Gauntlet
Valaria
The God Complex
The Lich's Tower
The Metro Platform
Steppin
The Monastery
Cognitasne
The Northern Plains
The Old Elven Village
Steppin
The Straight Path
Steppin
The Wedding Shops
Three of Swords
Valaria
Training Grounds
Anton
Trog Caves and Outpost
Underworld
Valhalla
Gordo
Wamphyrie Aerie
Thibor
Wandering Ship
Steppin
Wayhouse
Builder_5
CAW
Weeden
Raven
Chelliance
Doc
Steppin
Weeden Underground
Active Coder / Upcoming Releases
[
]
JediMUD 6.1 will be released soon, and a new team of BLDRs are rolling out new zones and area mods in a renaissance of JediMUD world development.
JediMUD is a unique blend of pre-CircleMUD 3.0 and Diku Alfa variant, co-developed by the man, Jeremy Elson himself, while he was working with early Stimpy CIMP, Jay Levino.
External Links
[
]