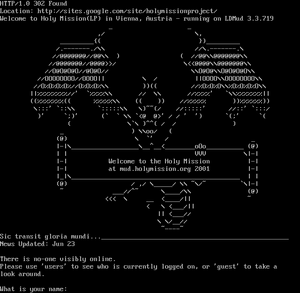 Holy Mission is a medieval fantasy MUD based in Linz, Austria.[1][2] Founded in 1992 and still online, it is one of the longest-running MUDs.[3] It uses the LPMud server software,[1][2] and has been seen as typifying the "LPMud genre".[4] (LPMud is properly a technical infrastructure, not a game genre, but some elements are popularly considered characteristic of games based on it.) Its name does not reflect any particular religious themes.[4]
Community content is available under
CC-BY-SA
unless otherwise noted.