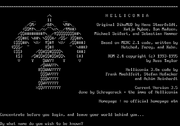 Helliconia is a dark themed game running Helliconia 3.5, a ROM-derived server software, which is running at 217.10.10.195 port 9000.
Awaken in a world bursting with combat and adventures.  You can choose your character from a large variety of classes and  races, all with unique spells and skills, fun to raise and very  powerful in the end. After dropping the newbie protection, all  sorts of multi-combatant battles against other players and/or  monsters await you. Clans with opposing philosophies, societies,  guilds, towns, and religions of the many gods of Helliconia  provide a broad base to choose your favorite role.  Or you search adventures exploring all those areas in groups or  alone, solving quests or deeds, collecting artefacts from the vast  number of mysterious items that can be found in Helliconia.  Helliconia is an advanced long-running roleplay, level-restricted  playerkilling spectacle. 
Helliconia has no official website yet.