NOTE: This is a machine translation of http://pl.wikipedia.org/wiki/Cygnus_%28MUD%29
Cygnus is a Polish MUD continuing the tradition of one of the oldest in Poland MUDs. It was founded on 18 March 1996 year Poznan. Despite the abandonment of the original authors in 1998 year (the so-called schism Poznań) has continued uninterrupted to this day, led by a different composition. Not to be confused with the Cygnus Cygnus Division.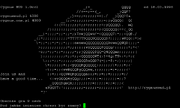 Cygnus is insane, mostly embedded in the world of fantasy, mudem the unusual approach. Rather, it is hack & slash, which strives to be at the same time so convenient as possible. Community, player is helpful. [...] The actions and descriptions often refer to classic cinema, literature, games, and more.
Cygnus was originally based on the code Merc 2.1 (soon after Merc 2.2), which has been modified by the unprecedented 11 years of operation. Inspired by codes such as ROM and Daleken retains its classic look and feel of play (ie typical mudów DIKU such as Merc, ROM, Envy) greatly improving the convenience of the game and introducing a number of more or less typical features.
Cygnus motto is: Join us and have fun ... The game is available for MUD client or program telnet at [telnet :/ / cygnusmud.tk: 4000 cygnusmud.tk 4000].
External links
[
]